Exceptional food, service and atmosphere for members and guests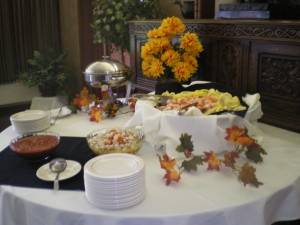 The Pennhills Club specializes in special events and parties for members and guests alike.  We offer several venues to accommodate groups of all sizes.  Whether you are hosting an intimate anniversary, birthday celebration, business event or the wedding of your dreams, we have the perfect location.
Since 1937, it has been the objective of the Pennhills Club to provide exceptional food, service and atmosphere to its members and guests.  Our professional staff will help you create custom tailored menus for any and all occasions.  From the time you arrive until you say your good-byes, every detail will be carried out to a "T".
The Pennhills Club provides all the required linens, round tables, all required glassware, silverware and china.
We will also help arrange for tents, dance floor, sound systems, decorating service, specialty items (i.e. candy bar, smores bar, photo booth), valet parking or any other specialty goods or services you may need provided for your event.  Please do not hesitate to ask!
The Pennhills Club can easily accommodate up to 240 guests, or create private dining areas for smaller, more intimate functions.
For more information or an appointment to see the Clubhouse and grounds, please phone Kevin at (814) 368-6159 ext. 7 or email krmosher@pennhillsclub.com. We look forward to meeting you and "meeting" your needs.