Bradford Country Club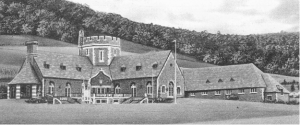 Bradford Country Club was founded on April 16, 1900 and the original course was a rudimentary nine-hole layout. The remnants of the original golf course are still visible on the east side of Route 219 just South of Minard Run Road.
According to Lionel Callaway "Bradford Country Club was a nine hole course constructed on a hillside with a constant slope of 15 or 20 degrees. It was really an oil lease and had many derricks and jacks, which provided the hazards and separated the fairways. The players did not mind this as most of them were oil producers and oil derricks and moving jacks provided them with other pleasure. Half the holes had right hand slopes and the other had left."
North Penn Club
In 1921 or early 1922 the members of the Bradford Country Club purchased a 200 acre parcel of farmland along Minard Run Road to build a new eighteen hole course. In 1922 Walter Travis was hired to design an 18-hole course to be called North Penn Club. He produced a full set of working drawings for all 18 holes and in 1922, the current holes #2 through #10 were built by Walter Travis.
The North Penn Club was formed on June 23, 1924. In one particular article it mentions that the course was only open to men and that the women stayed at the original location.
The Pennhills Club
The history of the Pennhills Club is closely associated with the former North Penn Club. A group of very enthusiastic golfers, undoubtedly knowing that they were slowly reaching an age when it would be somewhat of a hardship to negotiate the side hill course at the old Country Club, decided to do something about it. Therefore, on May 6, 1924 these dedicated men decided to purchase land up Minard Run Valley and construct a nine-hole course. There was a small one-story house and a barn on this land. The barn was converted to a locker room for the men and the house for use of the women and social functions. These alterations and construction of the golf course cost about $90,000.
Consolidation of Three Clubs
In February, 1936, there was a joint meeting of the Directors of the North Penn Club, Valley Hunt Club, and the Country Club to discuss consolidating all three clubs. At this meeting, it was generally agreed that the plan was desirable and that the North Penn Club site offered the ideal location for a new club building.
After many meetings and much discussion on this subject the Valley Hunt Club dropped out and, on June 12, 1936, a resolution was adopted to consolidate North Penn Club with the Country Club of Bradford and effect a new non-profit corporation.
By July 1, 1937, $125,000 had been raised and an architect had been retained to prepare plans and specifications for the proposed clubhouse and pool.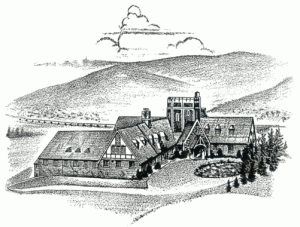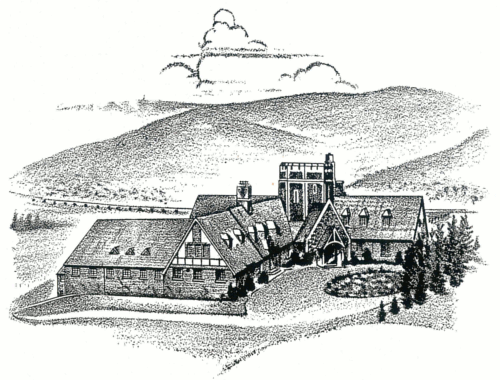 Construction was started immediately, with the low bid of $185,504, including: General Base Bid, Sewage Disposal, Kitchen Equipment, Refrigerator Boxes, Refrigeration, Lockers and complete Swimming Pool. The Sprinkler System and Underwater Lights for the pool, together with other miscellaneous items, were later added to the figure.
Thus, on December 6, 1937, the North Penn Club (founded on June 23, 1924) and the Country Club of Bradford (founded on April 16, 1900) merged to form the Pennhills Club and a charter was recorded.